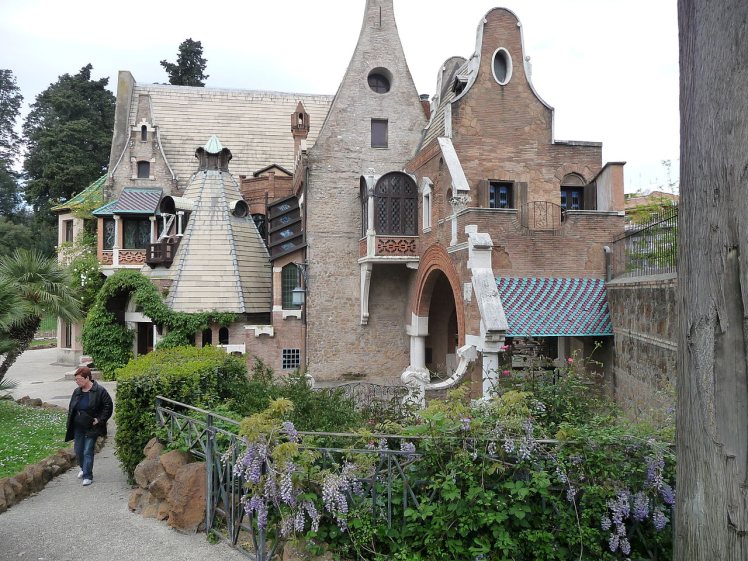 The Casina delle Civette Museum is a former residence of the Torlonia family transformed into a museum.
It is located inside the park of Villa Torlonia in Rome. The name derives from the recurring theme of the owls inside and outside the cottage. In the nineteenth century it was known as the Capanna Svizzera due to its rustic appearance similar to that of an alpine refuge or a Swiss chalet.
The building was designed in 1840 by Giuseppe Jappelli on behalf of Alessandro Torlonia. It looked like a rustic construction with an external tiled ashlar coating and the interior painted in tempera in imitation of rocks and wooden planks. [1]
In 1908, until then called Capanna Svizzera, it was transformed into a "medieval village" on commission from Giovanni Torlonia junior, Alessandro's grandson, who entrusted the work to Enrico Gennari. [1]
During this period, windows, loggias, arcades, turrets with majolica decorations and stained glass windows were added. [1]
The first mention as "Casina delle Civette" dates back to 1916 due to the inclusion of 2 stained glass windows with depictions of stylized owls inserted by ivy designs made by Duilio Cambellotti and, then, in the obsessive insertion of decorations in the shape of an owl here and there in the cottage. [1]
The insertions from 1917, including the glazed terracotta roof tiles, in the southern area of ​​the cottage by Vincenzo Fasolo in liberty style. [1]
Giovanni Torlonia Junior lived there until 1938, the year of his death. [1]
During the Second World War the Casina was occupied by Anglo-American troops and was partially destroyed; a long dark period followed until after the purchase of Villa Torlonia by the municipality of Rome in 1978: in 1991, in fact, the cottage was affected by a disastrous fire exacerbated by theft and vandalism. [1]
From 1992 to 1997 the Casina was the subject of restoration which brought it to its present appearance. [1]


From: https://it.wikipedia.org/wiki/Museo_Casina_delle_Civette
Geofield
POINT (12.51283 41.91421)